When my son was 3, I would always hear, "he's so cute".  When my son was 8, I would often hear, "he has the most beautiful smile".  My son is now 14, and I don't hear those comments anymore.  Has he reached the age where he is no longer seen as adorable?  As with so many other black boys, does he now elicit fear?
My son was adopted when he was 2 1/2, after experiencing early childhood trauma.  The effects of which follow him to this day.  This trauma has impacted his mental health.  Luckily, he has been receiving therapeutic supports.  Most black children do not have access to mental health services.  But even with his supports, many people who do not know him, don't see a child struggling with his mental health. They will likely see a black boy they would classify as a "thug". Those who know my son, know he is a beautiful human with a large heart. He has so much love to give.
The colour of his skin, combined with his mental health struggles, has resulted in negative interactions for my son within the community, the school and the law. He's only 14.  
The roadblocks he has already encountered put him at a serious disadvantage. He is going to have to work 100 times harder just to receive a small percentage of the opportunities other youth his age will receive.
My son's story is not unique.  My heart breaks every time I hear similar stories of other black children.  These children are an important part of our next generation.  We have a responsibility to provide them with a road to success.  But to do that, so many changes are needed.  
It is heartening right now to see many people in the white/non-black community calling out injustice, and wanting to do more as allies. But they don't know where to start. It all feels overwhelming. One vital step is to raise our children to be allies. When they learn to fight for equity, they give black youth a true sense of belonging, which is a cornerstone of mental health.  Moreover, it will also help teach our children how they can fight against racism.
How we can raise our children to be allies
"Some of the kids are not comfortable around your son".  This comment was made to me by a camp counselor at a city run camp when my son was younger.  Admittedly, he was a high energy kid (diagnosed with ADHD).  But he wasn't the only high energy child there, and he wasn't the only child diagnosed with ADHD.  But, he was the only black child there.  It was strongly suggested that this camp wasn't the best fit for him.  Imagine trying to have a discussion with your young child telling them that they are not welcome at camp.
This is just one of many examples of how my son has been ostracized from other children in his community. There isn't enough space to give examples of how he hasn't felt a sense of belonging at school or other settings. 
Providing children with a sense of belonging is a huge step in achieving equity.  Here are suggestions on how to discuss and support diversity at home.
Talk to your children about race – While we should be talking to our children about race all the time, it's particularly important to do so when race relations are front and centre in the media.  Our children are exposed to these stories, whether we realize it or not. When these topics aren't  discussed, the message being sent to children is that the issue isn't important, or doesn't impact them. These are perfect opportunities to find age appropriate ways to have discussions with our kids about racism and the emotions that it brings out.
Listen for comments your children make regarding race – Children, especially young children, will make comments as they start to notice differences in the world.  For example, they might say, "that boy has different colour skin than me, or , "that girl's hair is different than mine".  These comments are fine, and it's important to acknowledge these observations and help your child understand that there is nothing wrong with looking different.  Many times, parents are uncomfortable having these discussions and choose not to respond or change the subject.  But these are wonderful times to keep the conversation going.  However, if your child is making judgments about their observations, it's important to engage in other types of conversations.  Ask them questions to understand why they think certain ways.  Try to understand where these judgments are coming from.  Be sure to gently correct them, and keep the conversation alive in your home.
Provide your children with books – Reading is crucial.  There are many great children's books that discuss different races, cultures and religions.  Include some of these books in your child's library.  Here are a few books by Canadian authors.
Harriet Tubman by Nadia L. Hohn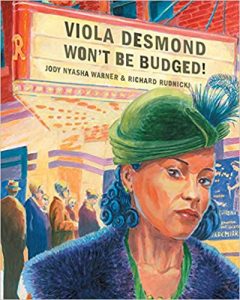 Viola Desmond Won't Be Budged by Jody Nyasha Warner 
The Field Guide to the North American Teenager by Ben Philippe
Introduce diversity in different aspects of your life – Your children probably know a lot about black athletes and black musicians. But what else do they know about black culture?  Art galleries and museums constantly showcase exhibits by diverse artists.  These outings are great activities to do with your family. Also, look out for festivals celebrating diversity. Finally, look at enrolling your children in activities and programs that have a diverse group of children.  This may involve going to different neighbourhoods, but this can open your child up to new ideas, interests and friends.
Teach your children to speak up when they encounter injustice – A white friend of mine recently told me this wonderful story.  She was listening to her daughter have a Zoom call with her peers.  The peers couldn't understand why there was so much discussion around Black Lives Matter.  Her daughter stood up to her friends, telling them it was an extremely important topic, and gave them reasons why.  We need more children like this.  
This is only a start.  But to help improve black youths' mental health, we must make them feel supported, heard and that they belong in our society. That is not happening enough.  We need to do better.
Last week I was saddened to read comments from a community Facebook group.  We live in an area that, although somewhat diverse, is predominantly white.  The conversation around Black Lives Matter became very heated, and turned ugly.  While a great number of people stood up in support, too many were dismissive, cruel and tone-deaf about what is going on.  I cried for my son as I read the comments. He has to walk around our neighbourhood. I realized how many people don't seem to believe that his struggles are important.  These are the people who will see him as a "thug".  These are the people who are not helping him overcome his mental health struggles, but instead contributing to them.  He is just a child who wants to belong. 
Remember, a friendly smile can go a long way to fuel a sense of belonging and acceptance… don't be afraid to #SpreadTheLove.
*My son gave me permission to share some of his story in an effort to help other children.
ABOUT THE AUTHOR: Toronto resident Damion Nurse started his career in film and television. He was an executive producer of the Canadian television series, 'da Kink in my Hair, which aired on Global Television. Damion is also an established cake artist. As the owner of Cinnabean Cakes, he sculpts over-the-top edible masterpieces.
ADDITIONAL RESOURCES
Children: A Kids Book About Racism by Jelani Memory
Youth: A great video that talks about race
Caregivers/Parents: this link discusses racism and violence. Learn how to help kids handle the news
Teachers/Educators: Safe@School: Lesson Plans & Tool Kits
Don't forget about our special family-friendly social media experiment to #SpreadTheLove #MylesAhead:
i. Paint a heart on a rock of your choosing.
ii. Write #SpreadTheLove #MylesAhead
iii. Place it in someone's garden, or in a public space for others to see.
iv. Take a picture.  Share it on social media with your location.
Remember to tag us and use the hashtags #SpreadTheLove #MylesAhead!