Run Myles Ahead!
Come out and join us for our 3rd Annual Run Myles Ahead fundraiser! Be a part of the amazing energy in support of Advancing Child & Youth Mental Health and register for our virtual 5Km run/walk, donate, and spread the word!
We are an official charity partner in the Scotiabank Toronto Waterfront Marathon (STWM) again!  Since space in the STWM is limited, we are offering participants the option to register and/or make donations directly with us instead of STWM.  Donations can be made through the STWM 
here
or through our regular donation platform 
here. 
Register directly with Myles Ahead
. Donate what you can (suggested
donation of $50
per runner) to Myles Ahead and 100% of the funds raised will support of Child & Youth Mental Health.  Once you have made your registration donation, email Natalie
(nfrancoeur@mylesahead.ca
) to complete the registration process by providing your shirt size and address. You can walk, skip, or run any distance you like virtually, or join us – the awesome Myles Ahead Team, Board of Directors, friends, and family – on our 5K run/walk along
Toronto's Boardwalk
 on 
Oct 17 at 10am
here
.
Register with STWM
. If you want to track your time and sign up directly through Scotiabank Toronto Waterfront Marathon, you can do so
here
(this link must be used to register as part of the Myles Ahead team, and STWM will donate $5 of the fee to Myles Ahead).  Follow the instructions below to register as part of our team!
STWM Registration Form:
After the personal information section of the registration form, there is a section called "Scotiabank Charity Challenge or Virtual Marathon Relay Team" – select the third option "I'd like to join an existing fundraising team or relay team" then in the "Select Team" box type: Myles Ahead, Advancing Child & Youth Mental Health.  See screenshot below: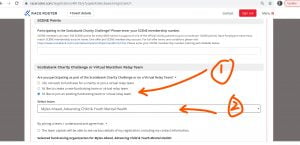 After you finish the registration process, there is an option to make a donation 🙂
Let's spread a sense of hope around our community! Join us for our #MylesOfHope initiative.  Our goal is to provide a platform to encourage the practice of community sharing with words of hope. So let's connect with others at a time when we are are all feeling a bit disconnected!
Step 1: Create a piece of artwork. Any style, any medium – rock art, poster, digital – you decide! 
Step 2: Write #MylesOfHope on your artwork or in your social media post. And include a message of hope for an added special touch!
Step 3:  Take a picture. Share it on your social media channels. Tag @MylesAheadChild on Facebook and Instagram or @MylesAheadACYMH on Twitter and use the hashtags #MylesofHope
A great activity for kids and youth!
Tap into your creative side!
Brighten someone's day!
Have fun!
Scotiabank Waterfront Marathon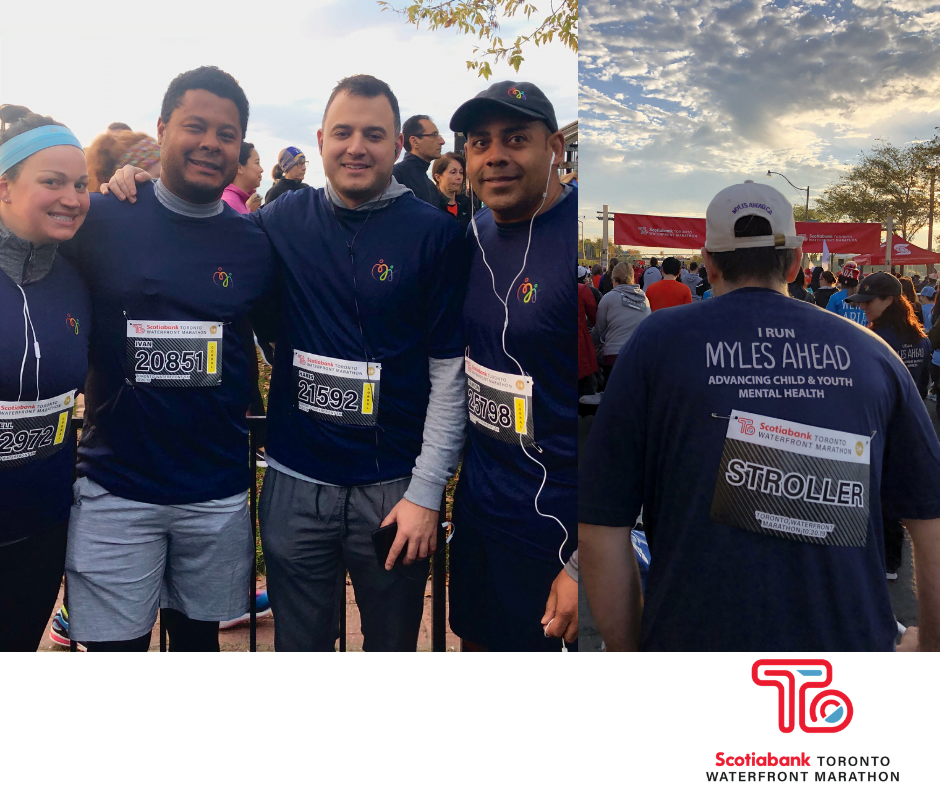 The Toronto Scotiabank Toronto Waterfront Marathon is going 'virtual' this year. That means you can choose your own route, your own time of day, run/walk with a group, or go solo… there has never been a better time to join in (or donate)!
Join us this year to Run (or walk) Myles Ahead, Advancing Child & Youth Mental Health! You choose when & where – anytime between October 1 – 31!
Child & youth mental health challenges are on the rise, with hospitalization increases of 90% and emergency room visits up 83% over the past 11 years in Ontario alone. And we are seeing a real spike in numbers in 2020 across Canada due to the pandemic.
Many of us will be social distance running/walking along Toronto's boardwalk the weekend after Thanksgiving on October 18th around 10am… we'd love to see you there!  If you choose another date and location, please send us pictures. We will be creating a special artistic collage of pics and would love to include yours.
If you plan to Register, please let me know so I can get you one of our amazing sustainable T-Shirts!
This guide will give you the the steps to register with Myles Ahead.
If you are not interested in registering, but would like to make a donation to support our fundraiser, follow this link.
Myles Ahead Summer Camp Challenge
Contest runs July 19 – August 15, 2020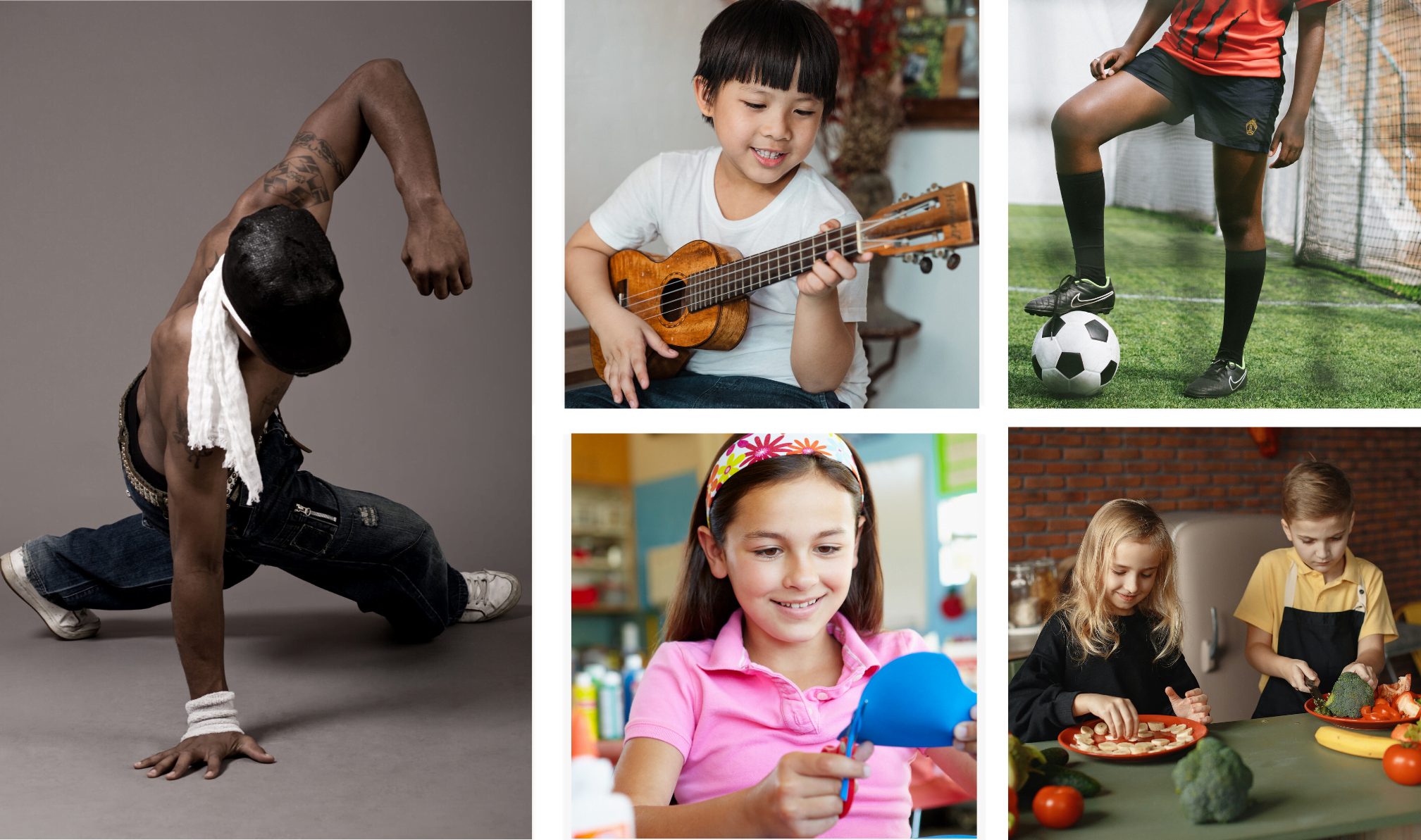 The Myles Ahead Summer Camp Challenge aims to bring the amazing camp experience home this summer for children & youth (0-24yrs).  A pandemic won't stop us from having FUN!  Here's the twist, The kids get to be the camp counsellors!
Kids are asked to make a short video (up to 2 minutes), teaching a favourite skill or technique for others to learn.
This initiative has wonderful mental health benefits. It's a great way for families to connect during the summer, and it also gives children & youth a feeling of empowerment as they teach others a new skill.
Each week there will be random draws for amazing prizes.  The more entries, the better the chances. At the very end of the Myles Ahead Summer Camp Challenge one lucky participant will win a grand prize: a bicycle and safety package valued at $1,000! The winner will be chosen by random draw.
Run Myles Ahead!
October 20, 2019
Scotiabank Toronto Waterfront Marathon Myles Ahead Charity Challenge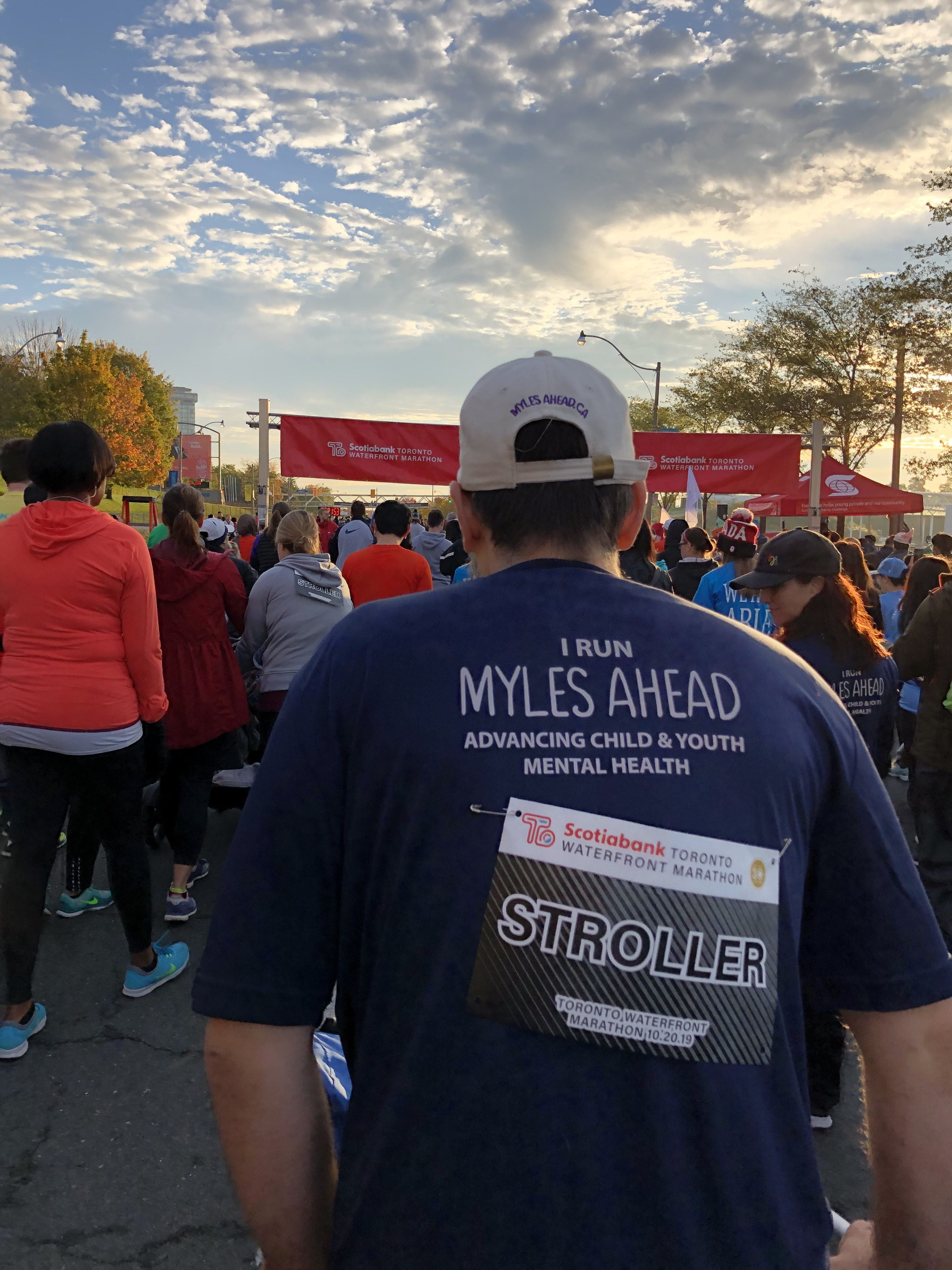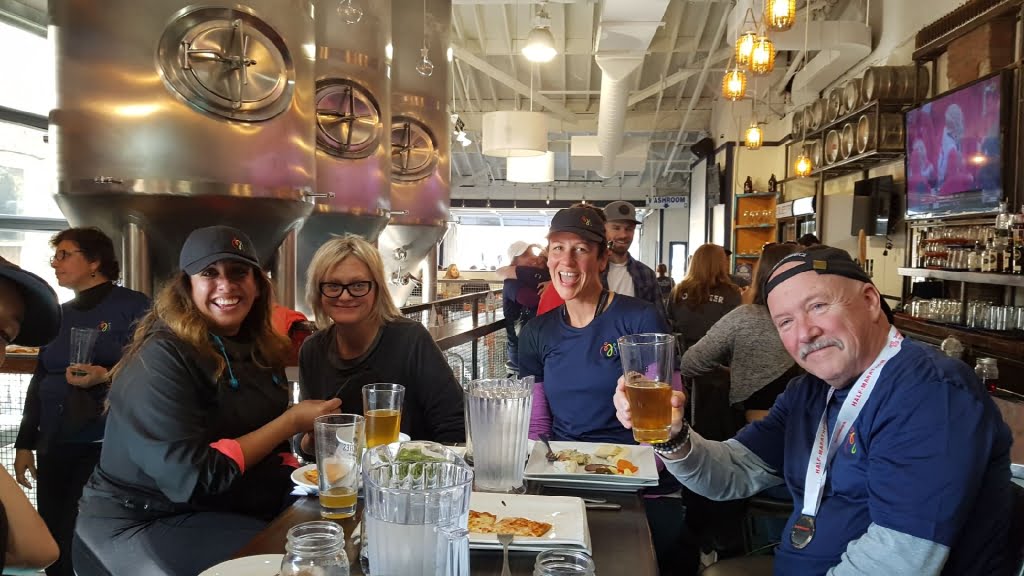 Myles Ahead gained charity status at the end of April, 2019 – less than one year after we lost Myles to suicide.  We looked into registering as a Scotiabank Toronto Waterfront Marathon charity shortly after and had just missed the deadline. We were so grateful that the organizers accepted our Myles Ahead application for the run!
On October 20th, we had 42 amazing people run #Myles Ahead and 20 amazing volunteers.  It was a beautiful day!
The run took place the day after what would have been Myles' 13th birthday.  It felt like the right thing to do – a celebration of his life and the Myles Ahead mission! 
Not knowing what to expect, we set a modest fundraising goal of $4,745 (representing a dollar for each day from birth to race day). After the tallying had been completed, we ended up Myles Ahead of our goal, with over $26,000 raised!   
A HUGE THANK YOU TO ALL OUR RUNNERS, VOLUNTEERS AND DONORS!
This was our first official fundraiser as a charity.  It was such a positive experience and we have decided it will be an annual event for us.  Please get in touch if you would like to join us for the Scotiabank Toronto Waterfront Marathon next year!
Brooklyn Tavern Extra Innings!
November 27, 2019
Brooklyn Tavern Hosts Left Field Brewery's Extra Innings for Myles Ahead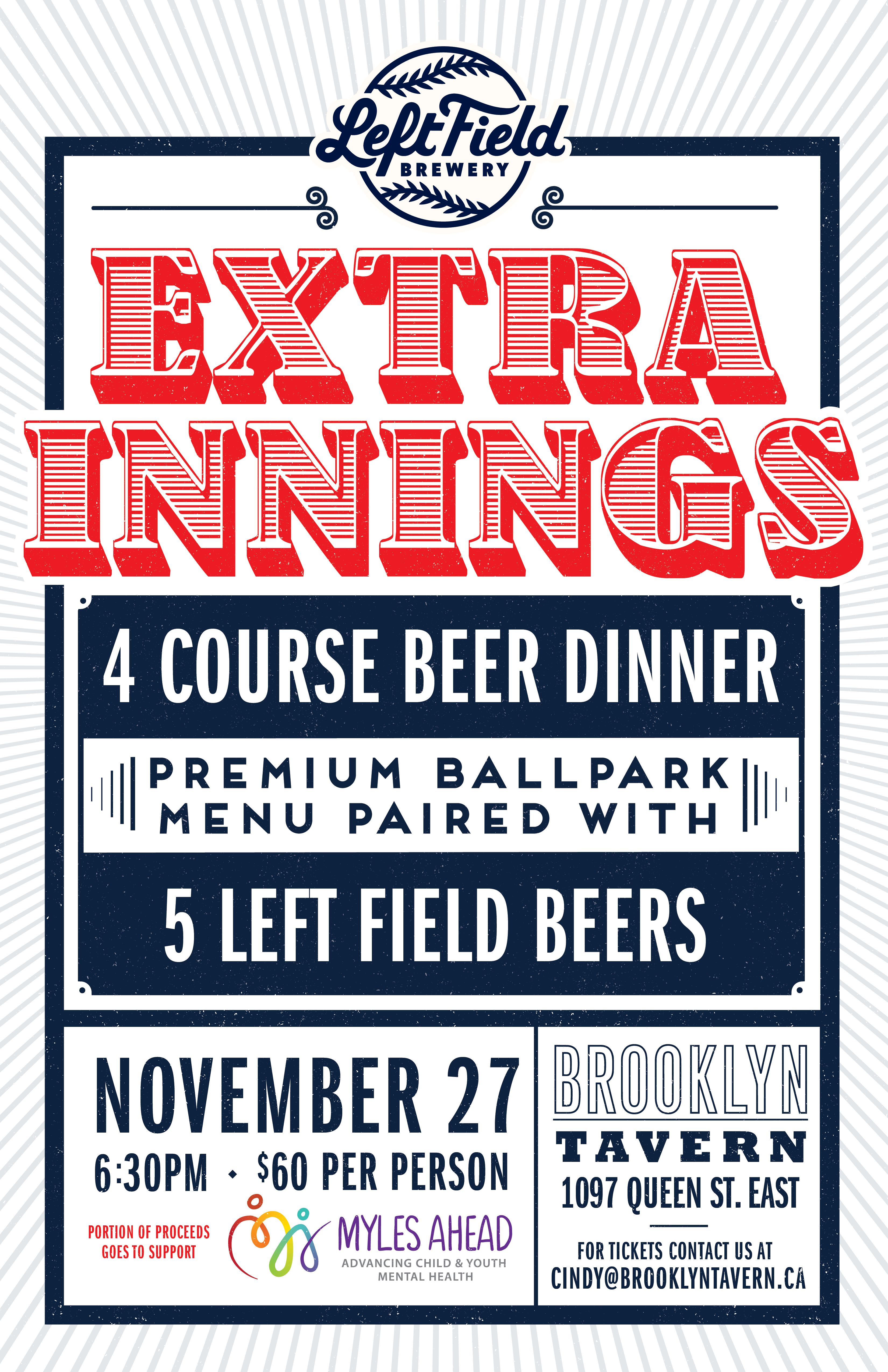 Less than a week after our Scotiabank fundraiser race, Myles' favourite restaurant, the Brooklyn Tavern, asked if they could use an upcoming Left Field Brewery event as a fundraiser for Myles Ahead.  This place is filled with so many wonderful memories and we were touched that Cindy & Dave wanted to do this for Myles Ahead.
The event will include a 4 course beer dinner paired with 5 Left Field beers for $60.  We would love to see you there!
Myles Ahead Trivia Fundraiser
May, 2019, Brisbane Australia
Shelley's Birthday Celebration Myles Ahead Trivia Fundraiser…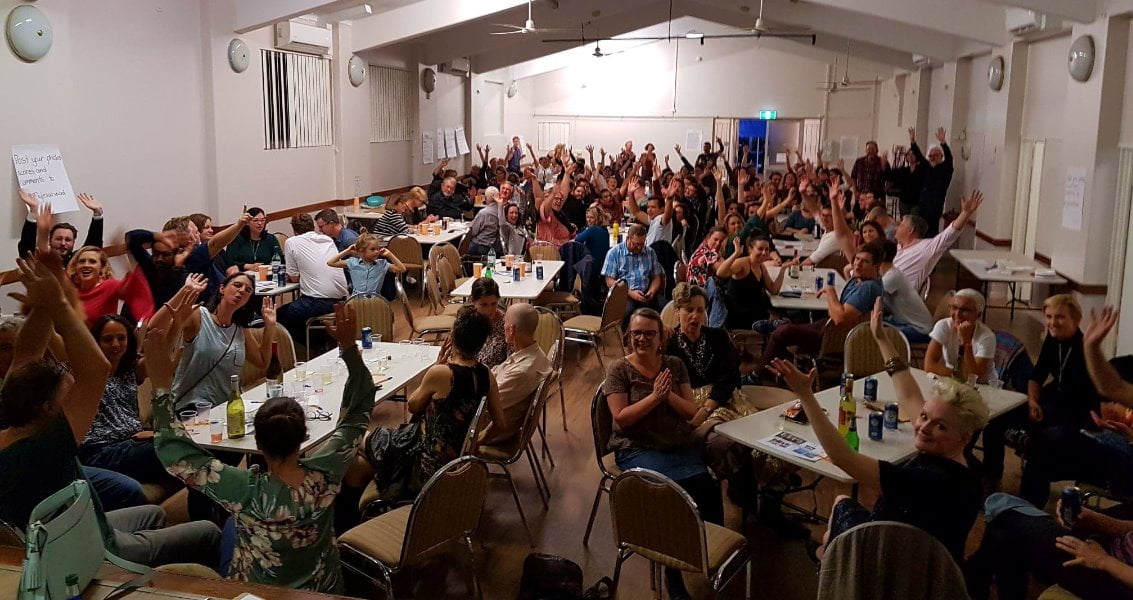 Across the world in Brisbane Australia,  Myles' aunt Shelley Kulperger dedicated her 50th birthday celebration to Myles Ahead by hosting a Trivia Fundraising Event!  The family-friendly event was initiated with a special land rights acknowledgement given by Indigenous elder Uncle Willie Prince and included the trivia comedic stylings of Paul Newman (yes, THE Paul Newman… well he is our Paul Newman at any rate!), live entertainment by Tom Smith and a special appearance impromptu performance by Mabel Newman #BeBrave! 
The event raised over $5,000 Cdn! It was so much fun and a huge success!  Happy Birthday Shelley!  And deep, heartfelt thank you to you, Paul, Max, Charlie & Mabel, Tom and your wonderful community for coming out and supporting Myles Ahead!