Myles Ahead, Advancing Child & Youth Mental Health ("Myles Ahead") is dedicated to bridging gaps and scaling best practices that will ensure children, youth and their families/caregivers have timely access to appropriate mental health services with the ultimate goal of mitigating child & youth suicide.  Our long-term vision is for the integration of mental health services into health care in Canada and includes schools within the framework — such that we have one cohesive, accessible and equitable system to support children, youth and their families.  
We will build partnerships to foster change, use an evaluative lens to identify the gaps in the fragmented mental health care system to identify opportunities and mitigate potential risks… we will prioritize our objectives over our brand and work collectively to create an inclusive culture based on compassion and empathy for everyone.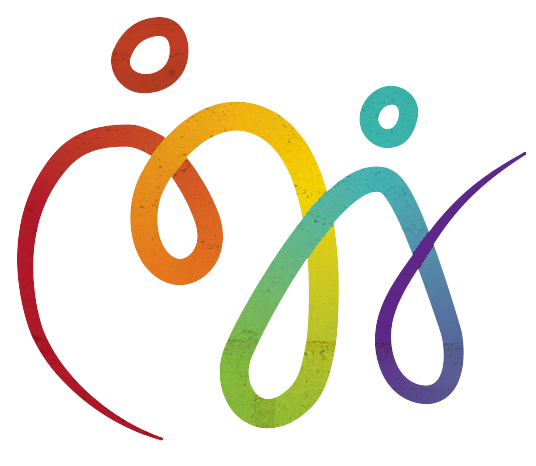 Our brand has been inspired by a young man who lost his life to suicide in honour of his desire to help the world become more empathetic and compassionate towards young people who struggle to maintain mental balance and wellness.
The Myles Ahead multicoloured heart-shaped "M" joined with an "A" logo represents a parent/caregiver and their child, the transition of colours and the journey through the M&A represents progression with an upward/hope-filled destination, and the use of multiple colours symbolizes inclusivity and diversity.
Who we are
After witnessing the endemic nature of the gaps in mental health support services in the community as well as in the schools, Myles Ahead was formed with the belief that we can and should do better.  We are dedicated to creating cohesion to bridge the gaps through partnerships to enhance and expand on best practices from the bottom up and across all systems.   
Myles Ahead approaches partnerships, initiative development and program implementation with the full system in mind.  Continuous improvement as fundamental to 'how' we work. 
Fundamental to this approach is the refusal to believe that status quo is acceptable or that improvements cannot be made.   
Board of Directors
Myles Ahead is fortunate to have a cross-functional team of industry experts directing our activities and providing oversight governance for our initiatives.  Our current Board of Directors and Executive team are as follows:
Our Values
Driven by the rights, voices and experiences of children and youth in partnership with families and experts, our core values and guiding principles include:
Inclusive. We seek input from, listen to, and reflect diverse perspectives, with an emphasis on the voices of children and youth.
Respect. All humans deserve to be treated with respect, including and particularly, those who are younger, dependent, and without agency.
Compassion. We believe in the power of compassion. We encourage and practice it.
Impact. We want to make sure what we are doing is valued and meaningful

.

Stewardship. We 

nurture thoughtful co-creation of solutions grounded in evidence when practical.

Partnerships. Our support for child and youth mental health grows exponentially through partnerships

. We are better together.

Best Practice. We believe improvement is always possible. We prioritize scaling best practices over promoting our brand, sharing information rather than owning it, as well as collaboration, knowledge mobilization, and system integration. 
Anti-Violence Policy
Myles Ahead, Advancing Child & Youth Mental Health ("Myles Ahead"), acknowledges that violence is pervasive within our society. Violence directed towards racialized and marginalized communities and groups within Canada requires dedicated action to advance awareness and constructive approaches to help create a just and safe culture for all. 
For this policy, violence is defined to include, and not be limited to, any form of racism, stigmatization, discrimination, marginalization, sexism, heterosexism, homophobia, and transphobia, among any belief, bias, behaviour, practice, and/or policy that oppresses and/or stigmatizes being "different." As documented in this Anti-Violence Policy, Myles Ahead is dedicated to creating an organizational culture that is safe, equitable, diverse, inclusive, and decolonized for all. 
It is fundamental that Myles Ahead's practices and work products reflect our Anti-Violence Policy to fulfil our mission to advance child and youth mental health in Canada. Racism, and particularly anti-Indigenous racism and anti-Black racism, is deeply entrenched and widespread in society and has been for centuries. Violence towards Black People, Indigenous Peoples, and People of Colour (BIPOC), among other oppressed communities, have a devastating impact that causes lifelong and intergenerational trauma. Systemic violence contributes to barriers for BIPOC children, youth, and families to access mental health support. Tragically, BIPOC communities are underserved by mental health support systems and over-represented in the child welfare and youth justice systems. Without equitable access to child and youth mental health services, the BIPOC community experiences poorer mental health outcomes than other communities.  
One way that Myles Ahead demonstrates our dedication to anti-violence is by embedding equity, diversity, inclusion, and decolonization (EDID) practices as a fundamental principle to co-design our initiatives. In addition, our dedication to anti-violence is also demonstrated by the following actions: 
Providing foundational and ongoing anti-violence EDID training for employees and Board members;

 

Initiatives, policies, and practices are aligned with this Anti-Violence Policy, including best practices related to anti-violence as outlined in Figure 1, but not limited to; and,

 
In recognition that language has an immense impact on creating a trusting, respectful, and non-judgmental culture, and that language is dynamic and constantly evolving, Myles Ahead regularly (at a minimum, annually) reviews and adjusts language in our documents and on our website, among other media, to reflect best practices .

 
 Myles Ahead pledges to being an active partner, supporter, and ally in co-creating a safe, just, equitable, inclusive, and decolonized society for all, and we stand firmly with our partners to condemn all forms of violence.