Given Canada has one of the highest child and youth suicide mortality rates in all OECD nations, children and youth in Canada are vulnerable to mental health distress. Despite this vulnerability, publicly available mental health services for children and youth are chronically underfunded and oversubscribed, leading to lengthy wait times.
In the absence of early-intervention supports, emergency departments (EDs) frequently appear to be the only option available to help children and youth when they are experiencing mental health challenges. Unfortunately, EDs have not been designed, equipped, or resourced to attend to the growing mental health needs of the communities that they serve. To the contrary, EDs can feel like hostile and traumatic environments that amplify pre-existing mental health challenges.
Compounding already challenging conditions, the pandemic has escalated the number of people turning to EDs for mental health support. Incidents of self-harm, suicidality, substance use, and substance overdoses have risen dramatically while hospitals struggle to meet COVID-related treatment demands. ED healthcare workers are at their breaking point.
These effects are even more evident in consideration of the disproportionate multi-generational trauma and mental health challenges of underrepresented and underserved communities. The risk of suicide for Indigenous youth is over five times the risk of suicide for non-Indigenous youth,[1] while the suicide rates for Inuit people are among the highest in the world, estimated up to 25 times higher than the national average.[2]
Despite these alarming statistics, and the strong correlation between mental illness and suicide, only 7% of the healthcare budget in Canada is spent on mental health services.[3]  This is an enormous inequity in the resourcing of Canada's healthcare system. Collectively and individually, we need to stop treating mental health as separate from standard healthcare. Today, the cost and multidimensional burden of child and youth mental health care is inordinately carried by caregivers and families.
THIS IS AN EMERGENCY AND THE TIME FOR ACTION IS NOW.
Myles Ahead developed the SafER Space framework by conducting an environmental scan of current ED practices for 35 of the largest pediatric and general hospitals across Canada and by interviewing seven Canadian and international experts. A best practice literature review was also completed, which showed how the recommended SafER Space changes to resourcing, processes, and physical design of EDs can significantly improve patient stabilization and overall mental health. Additionally, Myles Ahead considered why SafER Space would present a desirable option for hospitals. To do this, ten hospital scorecards and key performance indicators (KPIs) that have a high probability of relating to patient mental health escalations, were reviewed. Associated Quality Improvement Plans for KPIs that were underperforming were also examined.
Myles Ahead's SafER Space framework will provide hospitals with a roadmap to co-design the orientation of EDs toward best practices within the scope of their budgets and operating capacities, from low-cost and easily implementable "Phase 1" solutions to deeper, fully comprehensive "Phase 3" considerations.
Myles Ahead's initiative development is driven by a management system approach to advancing practices across the Canadian mental health landscape, prioritizing scalable solutions designed to mitigate the most severe risks with the greatest likelihood of occurrence; with the most severe consequence being a mental health-related fatality. Given Canada's alarming child and youth suicide rates, Myles Ahead's vision is to see SafER Space's Framework fully integrated within all hospitals, focusing initially, and at a minimum, on EDs within children's hospitals. In the brilliant words of Maya Angelou, "If one is lucky, a solitary fantasy can totally transform one million realities." Imagine how many realities will be changed when every ED becomes a SafER Space.
In response to this mental health emergency, Myles Ahead's SafER Space initiative is a human-centred experience for advancing child and youth mental health in EDs. SafER Space reimagines EDs to better support children and youth who are experiencing a mental health crisis.
To successfully make this a reality, SafER Space consists of a scalable framework, which includes six components (i.e., peer support, clinician support, training, triage, building design, and finishings design) of evidence-based best practices that are organized within three categories (i.e., people, process, and place). SafER Space also includes a transformation toolkit to successfully implement and sustain the framework.
SafER Space's framework is enabled by technology, depending on the needs of a given context for optimum delivery and accessibility. In addition, foundational to the framework, there are two guiding principles:
Integrate perspectives and experiences that genuinely and meaningfully reflect equity, diversity, and inclusion (EDI), especially with those who experience (or have experienced) sexism, racism, colonialism, stigma, marginalization, bullying, lack of representation, lack of supports, exclusion and/or other forms of oppression; and
Co-design with those who have direct experience with child and youth mental health, including youth, caregivers/families, and professionals within EDs.
Recognizing that the co-design of SafER Space is an ongoing journey and varies depending on the unique needs of the community a hospital serves, each component is differentiated by Phase 1, Phase 2, and Phase 3. Each phase includes descriptions of evidence-based best practices for establishing and advancing a particular phase.
SafER Space's framework is based on a human-centred and integrated health services approach, which is an emerging best practice for mental health care,[4] to provide the right care, to the right person, at the right time.[5]  In addition, SafER Space extends beyond the walls of the ED, as the framework includes the discharge conversation with follow-up that integrates with community mental health services to support children and youth.
As illustrated in the diagram below, reflecting SafER Space's integrated or holistic approach, the framework's model is a circle and surrounding the model is Community Mental Health Supports, given this is an integral connection or partnership with EDs to effectively serve the mental health needs of children and youth.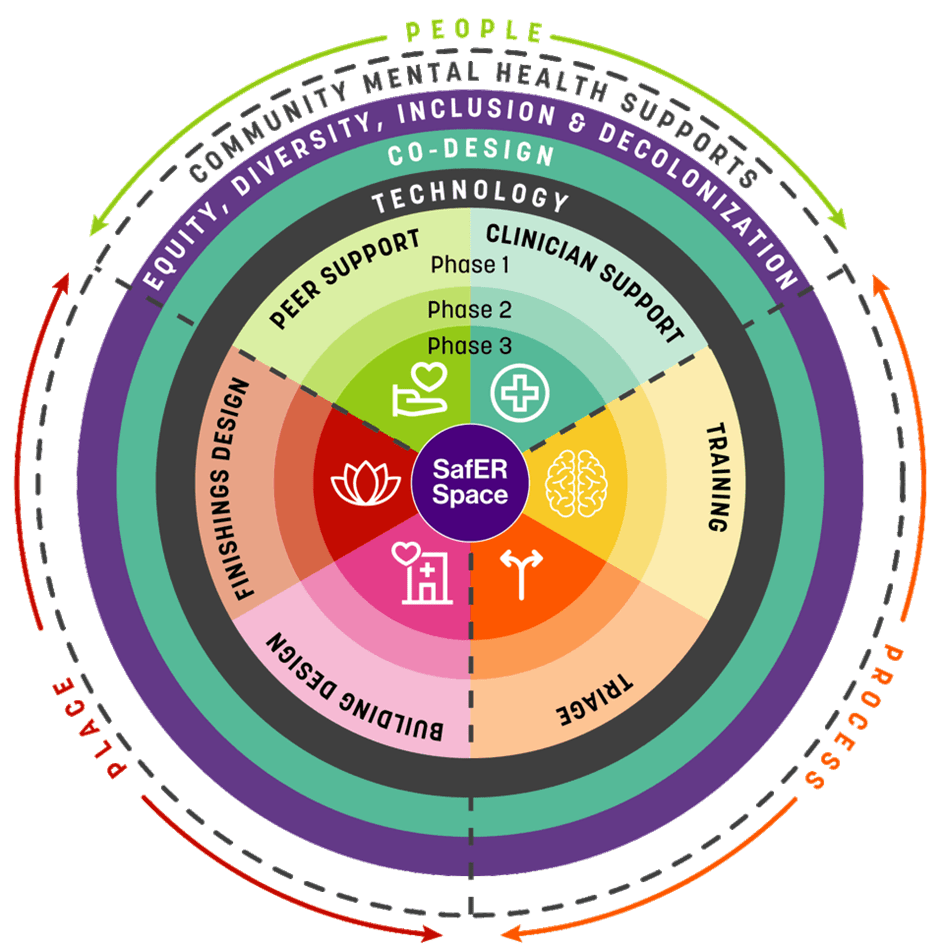 Not only does the SafER Space framework and transformation toolkit provide an opportunity for hospitals to truly practice the values of equity, diversity, and inclusion, it also helps to tailor the ED to better serve mental health needs that will support more positive experiences for all Canadians.
Throughout Canada, while Myles Ahead's vision is to integrate SafER Space's framework within the entirety of all hospitals, the initial focus is on EDs within children's hospitals. Although the intent is to ultimately expand SafER Space beyond the ED, the letters "ER" are capitalized as a branded reference to the ED's colloquial name of Emergency Room.
SafER Space is a response to close the mental health care gap with best practices of how people, processes, and places can, and must, positively impact children and youth mental health. Otherwise, EDs will continue to traumatize, whether intentional or not.
In the brilliant words of Maya Angelou, "If one is lucky, a solitary fantasy can totally transform one million realities." Imagine how many realities will be changed when every ED becomes a SafER Space.
Click image below to read the SafER Space Framework and Transformation Toolkit: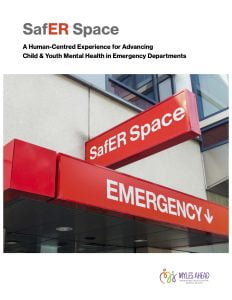 [1]Government of Canada; Indigenous Services Canada. "Mental Health and Wellness in First Nations and Inuit Communities." Government of Canada; Indigenous Services Canada, 10 Oct. 2020, https://www.sac-isc.gc.ca/eng/1576089278958/1576089333975.
[2]Affleck, William, et al. "Suicide amongst the Inuit of Nunavut: an exploration of life trajectories." International journal of environmental research and public health 17.6 (2020): 1812. https://doi.org/10.3390/ijerph17061812
[3]Moroz, Nicholas, Isabella Moroz, and Monika Slovinec D'Angelo. "Mental health services in Canada: Barriers and cost-effective solutions to increase access." Healthcare Management Forum 33.6 2020: 282-287.  https://doi.org/10.1177/0840470420933911
[4]Lyon, Aaron R., et al. "Designing the future of children's mental health services." Administration and Policy in Mental Health and Mental Health Services Research 47 (2020): 735-751. https://doi.org/10.1007/s10488-020-01038-x. Accessed 18 March 2021.
[5]World Health Organization. "World Health Organization International, May 2008, www.who.int/healthsystems/technical_brief_final.pdf. Accessed 18 March 2021.